Fairy Tail (フェアリーテイル Fearī Teiru) Hiro Mashima tarafında yazılan aynı adlı manga serisinden uyarlanan bir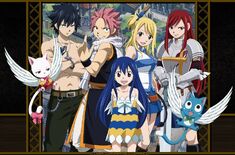 Anime'dir. A-1 Pictures ve Satelight tarafından üretilip,Shinji Ishihira tarafından yönetilen seri 12 Ekim 2009'dan 30 Mart 2013'e kadar TV TOKYO'sa yayınlanmıştır ve 5 Nisandan beri yayınlanmaya devam etmiştir. Seri Lucy Heartfilia'nın Igneel adlı ejderhayı arayan Natsu Dragneel sayesinde Fairy Tail adlı büyü loncasına katılması ile başlar.
Seride 30 farklı müzik kullanılmıştır bunlar; 16 tane açılış şarkısı ve 16 tane kapanış şarkısıdır.Serinin müzikleri Pony Canyon tarafından piyasa sürülmüştür.İlk DVD'si 29 Ocak 2010'da satışa sunulmuştur 
2011'de İngilizce dublajlı versiyonları Kuzey Amerika'da yayınlanmıştır.
Ad blocker interference detected!
Wikia is a free-to-use site that makes money from advertising. We have a modified experience for viewers using ad blockers

Wikia is not accessible if you've made further modifications. Remove the custom ad blocker rule(s) and the page will load as expected.