Fiesta
Bilgi
Grup
+Plus
Açılış Numarası
6
Başlangıç Bölümü
61.Bölüm
Bitiş Bölümü
72.Bölüm

Açılış Şarkısı Rehberi

Önceki
← Egao no Mahou
Sonraki
Evidence →
  Fiesta,Fairy Tail'in altıncı açılış şarkısıdır.+Plus tarafından söylenmiştir.
Açılışta Yer Alan Karakterler
Edit
Açılışı İzleyin
Edit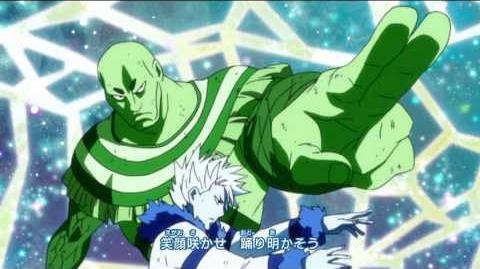 Şarkı Sözleri 
Edit
Kinou wo kuyan datte ato no matsuri
Oto ni tada mi wo makasete mireba
Kimochi made karuku shite kureru yo
Ima ni demo tobe sou jan

"Soko ni yama ga aru kara"
Sou itteta tozan ka
Kekkyoku kotae ha tanjun de
Dare mo ga idomi tsudukeru tabibito nanda
Hora ame sae mo energy ni kaete
Egao sakase odori akasou

Taiyou wo shimesu bokura no compass
Tadotte yuke ba jiyuu ni nareru kara
Tomo ni uchiage you hanabi
Kimochi hitotsu ni shite

Taiyou wa shizumi kuri kaesu
Ashita hare nante hoshou wa nai kedo
Donna aranami sae mo umaku nori konashite
Unmei no rakuen wa ima koko ni aru
昨日を悔やんだって 後の祭り
音にただ身を任せてみれば
気持ちまで軽くしてくれるよ
今にでも飛べそうじゃん

「そこに山があるから。」 そう言ってた登山家
結局答えは単純で
誰もが挑み続ける旅人なんだ
ほら雨さえも エネルギーに変えて
笑顔咲かせ 踊り明かそう

太陽を示す僕らのコンパス
辿ってゆけば自由になれるから
共に打ち上げよう花火 気持ち一つにして

太陽は沈みくり返す
明日晴れなんて保証はないけど
どんな荒波さえもうまく乗りこなして
運命の楽園はいまここにある
Ad blocker interference detected!
Wikia is a free-to-use site that makes money from advertising. We have a modified experience for viewers using ad blockers

Wikia is not accessible if you've made further modifications. Remove the custom ad blocker rule(s) and the page will load as expected.